As 2022 comes to an end, we as many event professionals think about our new learnings and near-future expectations for the event industry. The industry recovered from a worldwide pandemic that changed the trends and dynamics, and now event professionals deal with inflation of costs across the events industry supply chain. These challenges will provide new learnings and opportunities for sure. Before diving into 2023 event industry trends, let's have a look at the year 2022 with Deal Room's perspective.
Event Industry Trends in 2022
Last year, as Deal Room Events team, we prepared a blogpost about 2022 industry trends. Comeback of in-person events, safety concerns, rise of micro events and increase in event-tech usage were the main points. 
With experience in event management of over 1,200 events in 50 countries and 400,000 participants - we decided to conduct an in-depth research and analysis of the industry to understand how it is behaving, how it has been and where it is going. 
This year in August, we asked event organizers to help us understand how the industry is shaping up. We have compiled the analysis with our own findings.
It is with great pleasure that we now provide some top findings that we deem useful to our fellow professionals in the event industry. Our team of highly professional and knowledgeable individuals has prepared this analysis with their hard work, passion, and dedication.
At Deal Room Events, we strive to continuously provide value-adding solutions. It is our mission to work closely in understanding the industry trends and shape it for the better while having all stakeholders at the center of any innovation. The former is the reason why we constantly analyze the industry: to understand its evolutions and anticipate future needs. By doing so, we ensure our promise to our clients of having the best possible experience.
Let's dive into results and our analysis: 
We asked event organizers what type of events they were going to organize. 
Not surprisingly, event organizers focused on in-person events as the restrictions became limited. Not only industry professionals, but also all types of stakeholders such as attendees, speakers, sponsors and exhibitors missed in-person events. We will see this comeback much more concisely in 2023. 
However, virtual events will stay here as the context's additional benefits are hard to be overcome by in-person events. Reaching out to global audiences in a more efficient way is here to stay :) 
Top 5 challenges in organizing events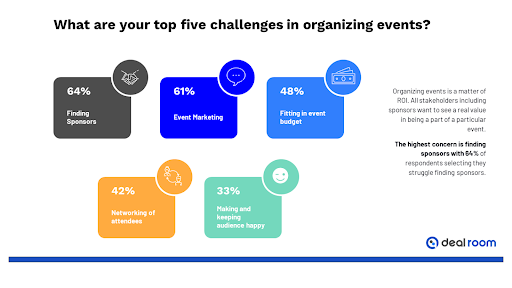 Organizing an event is a matter of dealing with details and encountering numerous problems during the planning and execution process. Event organizers face many challenges and every event type has its own set of complexities. Whether it is an in-person or virtual event, a conference or trade show, organizing an event is a matter of ROI. All stakeholders including sponsors want to see a real value in being a part of a particular event. The highest concerns of event organizers seemed to be finding sponsors as 64% of respondents say they struggle finding sponsors.
We strongly recommend you visit our latest blog post about event management details. You will find many other details an event organizer should consider to run a smooth event with a high ROI.
Top challenges in using event technology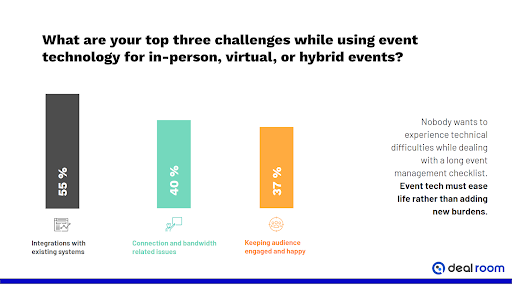 Nobody wants to experience technical difficulties while dealing with a long event management checklist. Event tech must ease life rather than adding new burdens. Keeping the audience engaged and happy is always a challenge, whether it is a 4-day conference or a birthday party.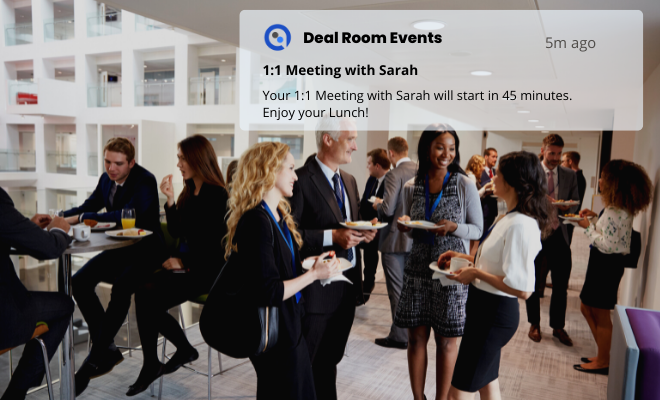 2023 Event Industry Trends with Learnings from 2022
What event organizers should pay attention to in 2023:
Audience should be kept busy and happy with networking, polls, surveys.
Tech should be easy-to-integrate and easy-to-use. Keep it simple. 
In person events are back, virtual is here to stay. It seems a little bit of both which is hybrid will be the ultimate trend. 
Platforms should create REAL value to sponsors. 
LinkedIn and newsletters are essential channels in reaching quality content.
Platforms and success teams may support event organizers in promoting events.
User-friendly Tech
Easy to say! All technologies claim they are user-friendly. Yet, not many of them assure it 100%. From registration, event check-in and agenda management to networking and meetings, all steps should flow smoothly. 
Industry and users' habits change very fast. Make sure you catch up with them and provide the best possible event experience. 
The foundation of the industry is human connection. It is a priority to have tools and systems that can be easily understood and used by all stakeholders of an event. For instance, Deal Room provides a customizable and user-friendly event app that offers an exceptional event participation experience. The app promotes interactions and engagement between the participants for accurate relationship building and business opportunities.
Purpose: Networking
The foundation of the industry is human connection. The main driver is meeting potential value creators. This is why networking and engagement is a priority for event professionals. And this is why you professionals started to focus more on organizing networking events.
To keep the audience busy with your event, ease the networking process before, during and even after the event. And make sure they are satisfied with the results.
Build your community
We are all creating and consuming value in our own ecosystems. Enlarging and/or enriching the ecosystem increases the potential for more value. 
Being a part of well-known communities is great. Building your own community? Awesome!
Do not let your event fade out in the archive. Use it as a step to build your own sustainable system of exchange. 
Here, we briefly mention the five main tactics for creating your community.
Organize a valuable event: Concentrate on developing an event that will excite potential attendees and inspire them to want to be a part of it. 
Create private Facebook groups: Private Facebook groups provide members with a secure environment where they can post, comment, and share without feeling exposed.
Organize informal activities: Invite guests a few days before the event and present the area by organizing informal activities like a tour, hiking, etc.
Bonus: Do not hesitate to mention them or to send them a special event discount. By encouraging active participation, you'll strengthen community involvement.
Outsource the program: Outsource the program structure, event themes, and social activities to engage the attendees in the event design process. Make them feel like they are a part of something greater and motivate them to collaborate on the project.
Discover Deal Room's Comprehensive Event Management Platform
Deal Room platform has all the necessary features to manage in-person, virtual and hybrid events. 
Networking experience with comprehensive functionalities
Built-in features and integrations
Virtual, hybrid and in-person event solutions and success management
Deal Room provides event organizers a networking tool to increase attendee productivity and enhance the event experience. On the Deal Room platform, event participants have access to each others' profile to make contacts and meet. Exhibitors can invite participants to their booths and manage meetings. This function also helps them to manage their workforce to fit scheduled meetings.
2023 industry trend predictions of event professionals 
Vlad Ciurca I Co-Founder & Executive Producer of Techsylvania I Codiax
At the beginning of 2022, we were under the impression that everyone is planning to get back to in person events and we've noticed that recovery and interest was a bit slower than initially anticipated. While the hope was for a full recovery in 2023, it seems the upcoming recession will leave some marks on the event industry, especially in terms of companies that are interested in sponsoring.
I believe going back from hybrid to fully in person events will be the biggest change in event tech in 2023. It's something we at Techsylvania have decided since mid 2022. The recession and companies' appetite to sponsor and get involved will be the biggest challenge in the events industry.
At our events, bringing founders, investors and executives to Eastern Europe is our strength. Especially the ones who don't normally come to this part of the world. 
---------- 
Ronny Eriksson, Co-Founder of Norders Agency 
The past years have been full of uncertainty and events have been waiting to be back for good. We can see its reflection in 2023 event industry trends. We are entering the era of Hybrid events where we will increasingly see a digital twin to each of the events that are produced. This improves inclusiveness in each of the events allowing the global audience to connect across borders.
Organizations have started to realize how important events are for PR. Events will work as an important marketing platform to reach the right audiences if leveraged correctly.
Lastly, the quality of events is going up due to new technologies being implemented allowing the event organizers to focus on what really matters – the experience. It is not about quantity, but quality.
In the upcoming future, event tech will allow people to streamline their processes for events. This includes event planning, management, distribution and marketing. Event tech will play a significant role in creating events that really convert the results we are seeking for and as more than 60% of events are expected to be hybrid – event tech becomes a necessity and we will see it in 2023 industry trends. 
In addition, we are growing away from one off events. 2023 is about yearly event cycles and before managing these have been impossible. Now with platforms such as Deal Room Events, organizations will be able to execute weekly and monthly events that build on the same event brand – allowing to manage thousands of visitors – bringing value between the event cycle.
Uncertainty remains as one of the biggest challenges in 2023. The financial situation of our world makes it hard for organizations to invest in big events, sponsor money will be harder to get and people will be less willing to pay for tickets.
The past years have lowered the confidence in organizing events greatly. People are uncertain if anyone will join and thus are not willing to put themselves on the line. If no one leads with example this confidence will remain low.
I've been organizing events for the past four years now. The secret sauce is to be different, find a competitive edge that makes people's hearts sing. One example of a great event we organized in Kirkenes, Northern Norway in November 2023 was ICE Innovation Festival. The location was challenging, but we still managed to attract 500+ participants because of the uniqueness and arctic opportunities the event held.
The other secret sauce is marketing. Few of the event organizers know how to properly market their events and thus miss many participants just for the sake of not being seen or heard. These can be solved really easily – and I would state I have become really good at it.
To summarize, 2023 will be the year when confidence is brought back to events. If no one else will do it, I will. Event tech makes the process streamlined, use it, otherwise you just make your event organizing harder than it has to be.
I'm Ronny Eriksson. Founder of many – but relevant to this Norders Agency (www.norders.agency)
We help events be branded right, seen and heard to reach their maximum capacity.
You can find me online at: 
LinkedIn: https://www.linkedin.com/in/erikssonronny/
Instagram: https://www.instagram.com/ronnyronnyronnyronnyronny/
Twitter: https://mobile.twitter.com/itseronny
Webpage: www.itse.wtf
---------- 
Burkay Yapagcioglu, Founder - CloudTalk Global | Cloud Markethink 
"With the comeback of in-person events, organizers are looking for tech solutions that ease their in-person event management. Virtual event platforms that cope with the turnaround will be successful in 2023. Most event platforms have many features that support virtual events. Still, few add real value to face-to-face events. Event technology solutions that simplify the event organizer's tasks, offer sponsorship options, and facilitate interaction will win the game of face-to-face event technology solutions. I believe event industry and event technology will reshape itself towards in-person events. " 
---------- 
Gokhan Erdogan, Founder of Uzakrota Travel Summit 
New technologies and trends are changing the way people do business and attend events. To my point of view, here are some specific trends that will shape the future of trade shows:
Augmented reality (AR) and virtual reality (VR) have already been used at some events, but they're still not widespread. As AR and VR become more common, we'll see more exhibitors using these immersive tools to educate attendees about their products and services.
AI technology will be used to improve event experiences by collecting data on attendees' preferences and behaviors so that organizers can make better decisions about how to improve their events. We already see its effects in many business fields. 
Social media will stay as an increasingly popular tool for event marketing, especially among younger audiences who prefer digital channels over traditional. Events will continue to use social media as a way of connecting with attendees before, during and after events occur — especially since platforms give marketers access to valuable demographic data about their audiences.
Digital signage & digital kiosks will also be more common. With so many technological advances happening around the world today, it's no wonder that trade shows are adopting digital solutions for in-person events. 
I believe event management platforms will be used more frequently at in-person trade shows. Our main event Uzak Rota Travel Summit is one of the biggest conferences and expos for travel agencies, airline companies, hotels, travel tech start-ups, hospitality investors, venture capitalists and tech companies. It connects travel industry professionals from the UK, CIS, Balkans, Europe, and the Middle East. We are pleased to host matchmaking, networking, agenda management and expo meetings on Deal Room platform.
----------
Urban Lapajne, PODIM Conference Program Manager
I expect that economic and geopolitical conditions will have the biggest impact on the event industry this year. I think we will continue to see an increase of in-person and hybrid events. From the content perspective I expect to see even more sustainability related topics to shape event agendas.  
I don't see any tectonic shifts in event tech in 2023. I expect that the impact and use of AI and ML will increase and progress even further in different segments of event tech.  
I think the biggest challenge for bigger events will be managing the economy of the events. The costs have increased significantly from last year, while on the other hand many sectors are in an economically difficult situation. 
PODIM is the most influential startup & tech event in the Alps-Adriatic & Western Balkans region, based in Slovenia, where innovation meets business opportunities, capital, and knowledge. It is a key regional platform for enabling learning and networking in the most valuable and time-efficient way. Podim aims at equipping founders and innovators with the right tools to solve the most meaningful challenges of the society.  
---------- 
Janet Greco, Founder of Broadcast Projects 
While it's true that people were desperate to get back to in-person events, the reality is that trade shows, especially, are undergoing a fundamental shift. We learned new habits and these will reshape event industry trends. People now question the need to travel. Economics and sustainability topics are top of mind. All the big shows will eventually migrate to event tech support. But it's a big learning curve for them. Some have been quicker than others. I expect it will take some time.
Event tech providers who have robust systems that are easy to set-up and provide a seamless experience for users will be the winners. There are many smaller providers who are grasping at straws for customers. There will be a shake-out. Communities will prevail. The event tech providers best able to support the community with robust and flexible features will be the absolute winners.
For in-person events, and for traditional trade show organizers, demonstrating value is the top challenge. Organizers have to ask themselves, "why?" from an exhibitor / attendee perspective. Beyond being a temporary real-estate proposition. There has to be more. Much more.
Media Meet & Greet Connect 365 is an always-on marketplace and meeting place for the global media and entertainment technology community. Taking the platform to a 365 proposition last year using Deal Room was a game changer. People are still learning what this platform does. But they are much more accustomed now than when we started in 2020. My secret sauce: try to help each attendee understand the value of community, and all the features of the platform, and offer compelling content. And then just carry on. Eventually it will become second nature. If it takes a while for people to catch up with my thinking, I can be patient. This is the future of events!
If you want to be a part of Media Meet & Greet community and meet media professionals, join: 
https://broadcastprojects.ck.page/e91c77d436
---------- 
Deal Room Co-founder and CEO Erdal Kilinc: 
In 2022 we saw an increase of in-person events along with a leap in attendance to events compared to 2019. In-Person events are expected to have their strongest year in 2023. According to the 2023 Global Meetings and Events Forecast report by AMEX "number of attendees at those meetings will increase across the board; 87% of meetings are expected to have an in-person component". Attendee engagement for in-person meetings is less of a concern than it used to be – meeting professionals say that people are so happy to have the opportunity to be back together face-to-face again with the developed event tech to book 1 on 1 meetings and connect in advance, the engagement happens naturally.
Beyond reducing administrative and manual work, meeting technology also addresses a critical issue: reduced staffing levels in both supplier and corporate offices of event organization teams.
After 2 years of virtual events, now more than ever there is a huge demand from attendees for real and memorable experiences. Event planners in 2023 will need to focus on creating the best possible experiences for their attendees, which in return offer exhibitors tangible ROI and lead generation opportunities with value adding event technology to design an end to end experience from registration to post event photos and analytics and data.
Now the climate change and climate crisis was one of the main topics of 2022, events in 2023 will look for more solutions to be sustainable and environment friendly. Avoiding perishables, and promoting reusables like water bottles, using biodegradable badges and lanyards are just a few tweaks to help reduce the carbon footprint. Developing event technology can also reduce the need for printables like business cards, badges, product catalogs and more. 59% of event attendees believe sustainability remains a key challenge for the event industry in 2023.
Event tech will also be an important part of the event industries leap in 2023. AR/VR, Avatars, Indoor tracking still have a long way to go. All in one event solutions that provide registration, check in, access control, event program, matchmaking, communication tools, lead capture and analytics will lead the way for event organizers to provide an end to end experience and make a difference. 
December 29, 2022